Are you in search of a compact yet effective cardio machine that can provide you with an intense workout? Look no further than the Bowflex Max Trainer M6. Designed for high-intensity interval training (HIIT), this machine allows you to engage your entire body while burning a significant number of calories in less time than traditional cardio machines. In this comprehensive review, we will explore all the features, specifications, and pros and cons of the Bowflex Max Trainer M6, helping you decide if it is the right addition to your home gym.
Introduction to the Bowflex Max Trainer M6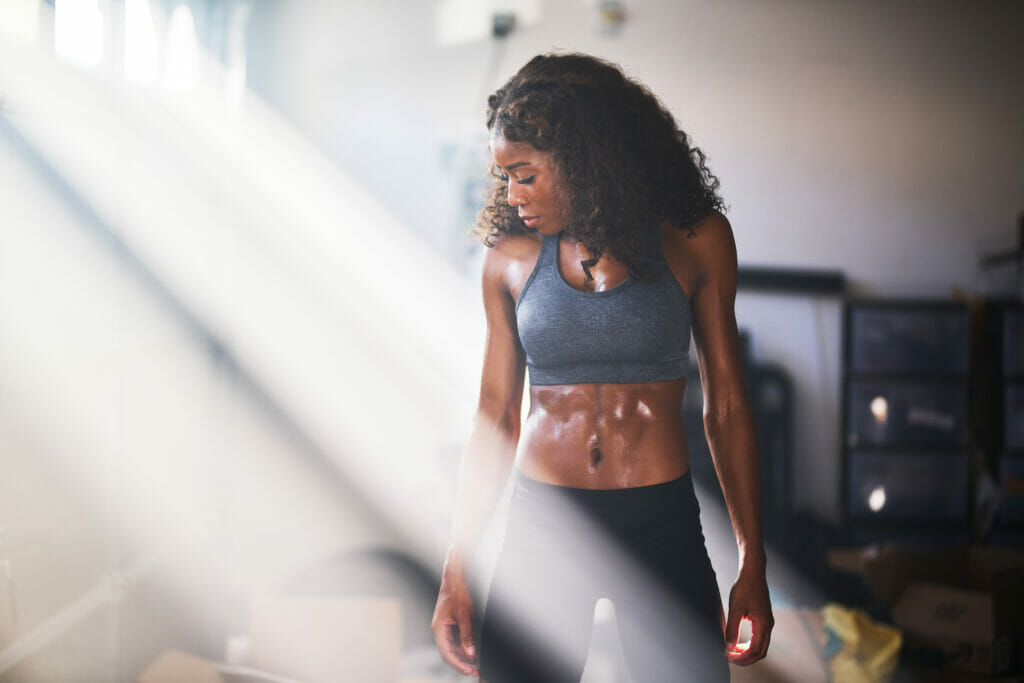 Bowflex, a renowned fitness brand, is well-known for its innovative home gym systems. While their power rod home gym systems remain popular, Bowflex has also made a name for itself with its creative and groundbreaking cardio machines. The Bowflex Max Trainer M6 is one such machine that has gained popularity in recent years.
With the Max Trainer M6, Bowflex offers a compact yet powerful cardio machine that is suitable for users of all fitness levels. This machine is designed to provide high-intensity workouts, combining a stepping motion with the legs and an alternating push/pull motion with the arms. By engaging multiple muscle groups simultaneously, the M6 helps you achieve a higher heart rate, leading to more effective calorie burning and weight loss.
Features and Specifications
HIIT-Style Workouts
The Bowflex Max Trainer M6 is specifically designed for HIIT-style workouts, which are known for their ability to burn calories and promote weight loss. HIIT workouts involve short bursts of intense exercise followed by periods of rest or lower-intensity exercise. The M6's combination of full-body movements and adjustable resistance levels allows users to customize their workouts and achieve the desired level of intensity.
Magnetic Resistance System
The M6 utilizes a magnetic resistance system, which provides a smooth and quiet workout experience. With 16 resistance levels, users can easily adjust the intensity of their workouts to suit their fitness level and goals. The magnetic resistance system, combined with the machine's stepping motion, ensures a challenging workout that engages both the upper and lower body.
Compact and Sturdy Frame
One of the standout features of the Bowflex Max Trainer M6 is its compact design. With a footprint of only 46" x 26", the M6 takes up minimal space compared to traditional ellipticals and treadmills. This makes it an ideal choice for individuals with limited workout space, such as those living in smaller apartments or houses. Despite its compact size, the M6 is built to last, with a weight capacity of up to 300 lbs.
Burn Rate Display
The M6 features a unique "burn rate" display that shows users the number of calories burned per minute during their workouts. This display serves as a motivating factor, allowing users to track their progress and stay motivated to push harder. By providing real-time feedback, the burn rate display encourages users to maximize their calorie burn and achieve their fitness goals.
Multi-Grip Handles
The Max Trainer M6 is equipped with multi-grip handles, providing users with various options for hand placement during workouts. This feature allows for a more comfortable and customized workout experience, while also targeting different upper body muscle groups. By switching between different grips, users can engage their biceps, triceps, and shoulders more effectively.
On-Demand Workouts and JRNY App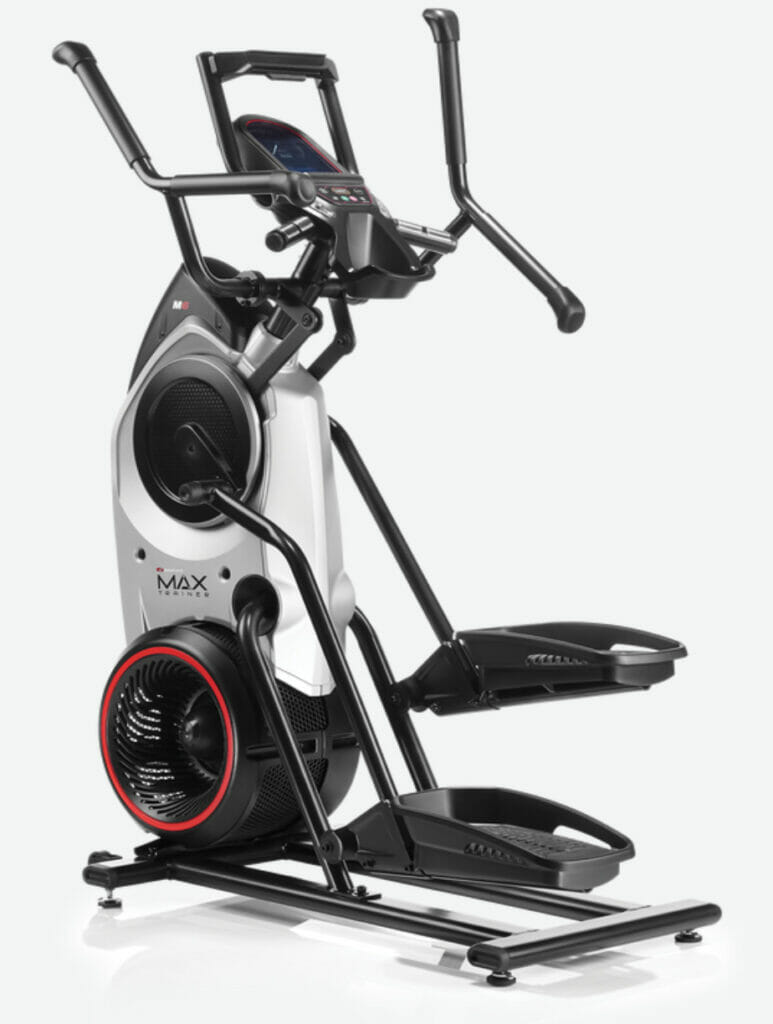 One of the standout features of the Bowflex Max Trainer M6 is the option to access unlimited on-demand workouts through the JRNY app. This app provides users with a wide range of instructor-led workouts, scenic routes, and metric tracking. By connecting the M6 to the JRNY app via Bluetooth, users can seamlessly stream workouts and track their progress in real time. The app also offers a personalized fitness journey, adapting workouts to individual preferences and goals.
Additional Features
The Bowflex Max Trainer M6 offers several additional features to enhance the user experience. These include:
Bluetooth compatibility with popular fitness apps for tracking and data synchronization.

Bluetooth heart rate monitoring for accurate tracking of heart rate during workouts.

A USB charging port for conveniently charging devices during workouts.

A magnetic media rack to securely hold tablets or phones during workouts.

A large water bottle holder for easy access to hydration during exercise.
Pros and Cons
Before making a purchasing decision, it is important to consider the pros and cons of the Bowflex Max Trainer M6. Here are some key points to consider:
Pros
Full-body, HIIT-style workouts that maximize calorie burn and promote weight loss.

16 magnetic resistance levels to customize the intensity of your workouts.

Compact frame that takes up minimal space in your home gym.

Burn Rate meter that displays real-time calorie burn, motivating you to push harder.

Compatibility with the JRNY app, providing access to unlimited on-demand workouts.

Bluetooth compatibility for syncing with fitness apps and wireless heart rate monitors.

Five standard workout programs for variety and convenience.

USB charging port for convenient device charging during workouts.

Two user profiles to accommodate multiple users.

Straightforward assembly process with clear instructions.
Cons
Short warranty period of 2 years for the frame.

No built-in speakers for audio entertainment during workouts.
It is important to note that while the warranty period for the frame may be shorter than desired, Bowflex has a reputation for producing high-quality machines that are built to last.
Resistance and Workout Intensity
The Bowflex Max Trainer M6 is designed to deliver intense workouts, making it an excellent choice for individuals looking to elevate their fitness levels. The machine's combination of a full-body movement pattern and 16 resistance levels ensures that users can tailor their workouts to their specific needs and goals.
The stepping motion with the legs and the alternating push/pull motion with the arms activate multiple muscle groups simultaneously, leading to a higher heart rate and increased calorie burn. The 16 resistance levels provide users with a wide range of options for adjusting the intensity of their workouts. This versatility makes the M6 suitable for both beginners and more advanced athletes.
It is worth noting that while the M6 is designed for HIIT workouts, users can also opt for lower intensity, steady-state cardio workouts. This allows for a more varied workout routine and accommodates different fitness preferences.
Frame and Durability
Despite its compact size, the Bowflex Max Trainer M6 is built to withstand rigorous workouts and support users of various sizes. The machine's sturdy frame can accommodate individuals weighing up to 300 lbs, providing stability and safety during exercise.
The weight capacity is an important consideration when evaluating the overall durability of a cardio machine. A higher weight limit is indicative of a more robust and heavy-duty machine. With a weight capacity of 300 lbs, the M6 demonstrates its ability to withstand heavy use and provide a stable base for workouts.
Additionally, the assembled weight of the M6 is 148 lbs, further contributing to its stability and durability. A heavier machine is less likely to move or wobble during intense workouts, ensuring a safe and comfortable exercise experience.
Assembly and Setup
The Bowflex Max Trainer M6 comes with a straightforward assembly process that can be easily completed by most individuals. The machine's main unit comes preassembled, simplifying the setup process. Users are only required to attach the stabilizer feet, handles, pedals, and console, along with a few covers.
The assembly manual provided by Bowflex includes clear instructions and large images to guide users through each step. The inclusion of zoomed-in images of the hardware makes it easy to understand where each component should be placed. All necessary tools are also included with the machine, eliminating the need for additional equipment.
Overall, assembling the M6 should be a manageable task for most users. The estimated time for unboxing and assembly is approximately one hour.
Warranty and Customer Support
When purchasing any fitness equipment, it is crucial to consider the warranty provided by the manufacturer. The warranty coverage can give you peace of mind and protection against potential defects or malfunctions.
The Bowflex Max Trainer M6 comes with the following warranty coverage:
2-year frame warranty

2-year parts warranty

90-day labor warranty
While the warranty on the M6 may not be as extensive as some other cardio machines in this price range, Bowflex has a reputation for producing reliable and durable equipment. The provided warranty period should offer sufficient coverage for most users, especially considering the machine's solid construction and overall quality.